- The Historical Archive -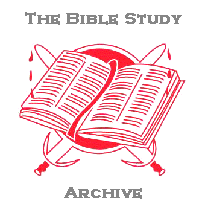 Greetings to you in Jesus Name!
We are currently in the process of re-designing our ministry website. It may take a few weeks to complete the file transfer from the old archive to the new. Thank you for your patience as we work diligently to complete this file transfer process.
Thank you for visiting our Bible Study archive! Please feel free to browse through our extensive list of topical Bible studies from the past. This is the place where we fully intend on displaying the answers to any Bible related questions that come across our desk, but in a completely anonymous fashion. We respect everyone's right to privacy. Please enjoy your stay!

Scripture
Reference

Bible Study Topics & Questions

Study File

Exodus 25:8-9

The Hidden Secrets of God's Tabernacle!

Genesis 5:27

The Methuselah Prophecy!

Deuteronomy 18:9

Halloween vs. Christianity: What are the facts?

Matthew 16:18

Upon This Rock I will Build My Church!

Luke 1:44

When is the Human Soul Placed in the Body?

Acts 12:4

The Easter Bunny Controversy!

None

The Cracked Pot Inspirational Story!